Event Details
2023 HR Leaders of Tomorrow (Student Conference)
| | |
| --- | --- |
| Date: | April 21-22, 2023 |
| Organizer: | |
| Location: | Hybrid (Juneau, AK and remote) |
| Price: | $59 for SHRM student members and faculty advisors in AK/OR/WA/ID, $99 for SHRM student members and advisors from other states, $99 for SHRM professional members, and $139 for non-SHRM members |
| Event Type: | |
| iCal link | |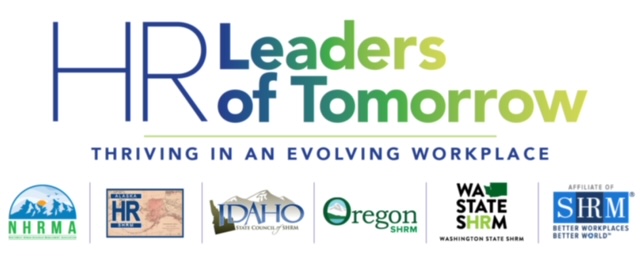 On April 21-22, 2023, the Northwest Human Resource Management Association (NHRMA) and the SHRM State Councils of Alaska, Oregon, Washington and Idaho will host HR Leaders of Tomorrow, a premier conference designed for students and emerging professionas that focuses on human resource management. This exciting event is open to both students and recent graduates, and will take place at the beautiful University of Alaska Southeast campus in Juneau, Alaska. It will also be livestreamed for those who prefer to attend virtually. The conference will feature corporate HR tours, keynote addresses by recognized experts in the field, career-building activities, and concurrent sessions focused on contemporary HR topics. It will also feature a trip to the Mendenhall Glacier. For students at any stage in their education as well as recent graduates, this multi-state regional event won't be one to miss!
---
ADDITIONAL DETAILS COMING SOON!
---
Call for Presentations
Interested in presenting at the conference? To submit a presentation, click here.
---
This event is made possible by generous donations from NHRMA and the efforts of the SHRM State Councils in Alaska, Oregon, Washington, and Idaho, as well as many professional chapters in these states. All SHRM state councils and professional chapters are affiliates of the Society for Human Resource Management (SHRM) and staff representatives from SHRM will be in attendance.
Interested in supporting student travel to the conference? Please complete the 2023 HRLT Conference Partner Sponsorship.
Conference Executive Planning Committee:
For reminders and updates, follow NHRMA - Northwest Human Resource Management Association on Facebook!