Event Details
2022 HR Leaders of Tomorrow (Student Conference)
| | |
| --- | --- |
| Date: | April 8-9, 2022 |
| Organizer: | |
| Location: | Hybrid (Spokane, WA and remote) |
| Price: | $59 for SHRM student members and faculty advisors in AK/OR/WA/ID, $99 for SHRM student members and advisors from other states, $99 for non-SHRM members |
| Event Type: | |
| iCal link | |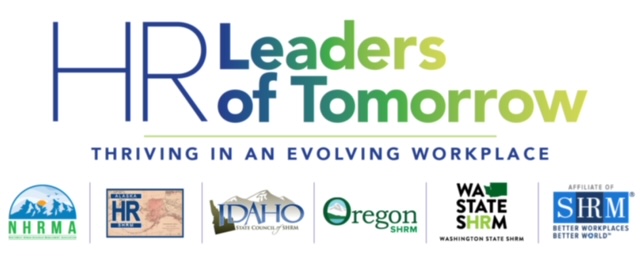 On April 8-9, 2022, the Northwest Human Resource Management Association (NHRMA) and the SHRM State Councils of Alaska, Oregon, Washington and Idaho will host HR Leaders of Tomorrow, a premier student conference focused on human resource management. This exciting event will take place in Spokane, Washington at the beautiful Gonzaga University campus and will be livestreamed for those who prefer to attend virtually. It will feature corporate HR tours (for both our in person and our virtual attendees), keynote addresses by recognized experts in the field, career-building activities, and concurrent sessions focused on contemporary HR topics. For students at any stage in their education, this multi-state regional event won't be one to miss!
FRIDAY KEYNOTE!
Rock Your HR Conference!
Allison Brown
Co-presenters - Alan Cabelly and Katie Slick
SATURDAY KEYNOTE!
A Better You
Patty Hickok
Sr. HR Director, NANA Regional Corporation
Anchorage SHRM President
Past President, NHRMA
---
See below registration for information on COVID guidelines.


REGISTER NOW! (See below)
Gonzaga Events/Meetings/Visitor COVID Protocol - UPDATED April 3, 2022
As of March 2022, Gonzaga University no longer requires proof of vaccination or a negative test for on-campus events. Masks will no longer be automatically required for indoor events starting on March 26, 2022. It is encouraged that visitors who are not fully vaccinated continue to wear masks and practice physical distancing, unless outdoors and separated from people not of their immediate household by at least six feet.
Any individual attending an event on-campus has the right to wear a mask for any reason, without explanation, in or on any campus facility or location, free of harassment or questioning, in accordance iwth State law. This includes any environment where the wearing of masks is considered optional by others.
Most University buildings are currently closed to outside visitors. Access is granted to visitors via Gonzaga escorts and hosts.
Additional information can be found at Campus Visitor Guidelines | Gonzaga University.
---
Presentations for 2022 closed.


---
This event is made possible by generous donations from NHRMA and the efforts of the State Councils in Alaska, Oregon, Washington, and Idaho, as well as many professional chapters in these states. All contributing sponsors are affiliates of the Society for Human Resource Management (SHRM) and staff representatives from SHRM will be in attendance.
Interested in supporting student travel to the conference? Please contact a member of the conference executive planning committe (listed below) and they'll help connect you to student chapters in need of financial support..
Conference Executive Planning Committee:
For reminders and updates, follow NHRMA - Northwest Human Resource Management Association on Facebook!